Prince Harry has accused members of the Royal Family of getting in "bed with the devil" over their links with the tabloid press – and admitted Meghan did not get on with William and Kate "from the get-go".
In an interview with ITV, the Duke of Sussex claimed he did not have "any intention to harm" or "hurt" King Charles and Prince William with his memoir Spare, which includes a series of explosive allegations about the royals.
Harry also said it was "important to acknowledge" his past drug use after he admitted in his book taking cocaine, cannabis and magic mushrooms.
In a wide-ranging interview, Harry told presenter Tom Bradby: "I love my father. I love my brother. I love my family.
"Nothing of what I've done in this book or otherwise has ever been (with) any intention to harm them or hurt them."
Harry said he had faced "many, many years of lies being told about me and my family".
Addressing the "relationship between certain members of the family and the tabloid press", Harry added: "Those certain members have decided to get in the bed with the devil, right? – to rehabilitate their image.
"If you need to do that, or you want to do that, you choose to do that – well, that is a choice. That's up to you.
"But the moment that that rehabilitation comes at the detriment of others – me, other members of my family – then that's where I draw the line."
Harry and Meghan left UK 'fearing for their lives'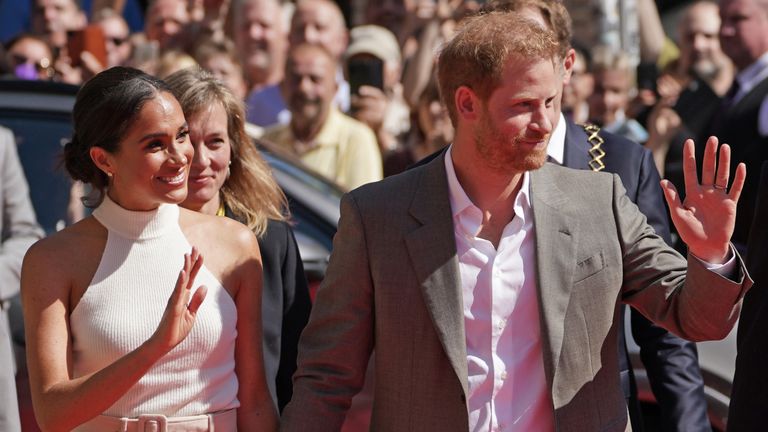 Asked how he could justify the level of disclosure in his book, Harry said there was a family motto of "never complain, never explain".
"What people have realised now, through the Netflix documentary and numerous stories coming out over the years, is that, that was just a motto," he added.
"There was a lot of complaining and there was a lot of explaining and it continues now.
"The thing that is the saddest about this… is it never needed to be this way.
"It never needed to get to this point.
"I've had conversations, I've written letters, I've written emails, and everything is just: 'No, this is not what's happening… you are imagining it.
"And that's really, that's really hard to take.
"If it had stopped, by the point that I fled my home country with my wife and my son fearing for our lives, then maybe this would've turned out differently. It's hard."
Harry accused of being 'scathing' about Camilla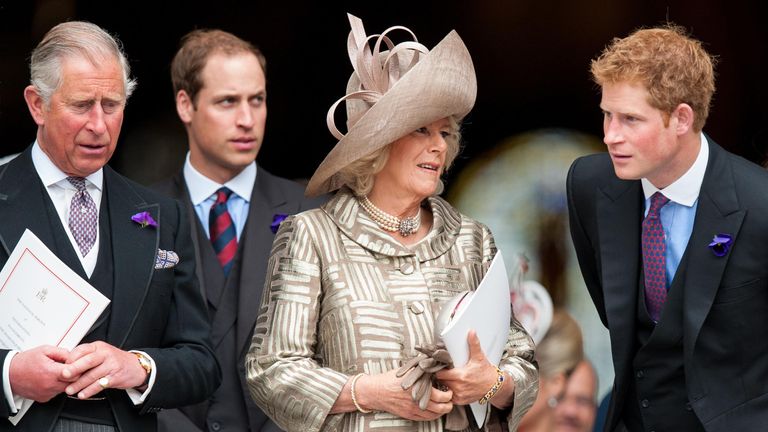 Bradby suggested to Harry that he was "pretty consistently scathing" in his memoir about his "stepmother and the press".
An excerpt read by Harry from his book said he and his brother William "endorse Camilla" but they asked his father Charles not to marry her.
"Shortly after our private summits with her, she began to play the long game," Harry says.
"A campaign aimed at marriage, and eventually the Crown, with Pa's blessing we presumed.
"Stories began to appear everywhere in all the papers about her private conversation with Willie, stories that contained pinpoint accurate details, none of which had come from Willie, of course. They could only have been leaked by the other one other person present."
Read more:
Harry cuts a sad, self-indulgent and naive figure in his memoir
In his TV interview, Harry denied being "scathing towards any member of my family, especially not my stepmother".
"There are things that have happened that have been incredibly hurtful, some in the past, some current," he added.
"No institution is immune to accountability or taking responsibility. So you can't be immune to criticisms either.
"My wife and I were scrutinised more than, probably, anybody else.
"I see a lack of scrutiny to my family towards a lot of the things that have happened in the last year."
Harry 'does not recognise' William and Charles
Harry said he wanted "reconciliation" with his family but "there needs to be some accountability".
He told Bradby: "I think there's probably a lot of people who, after watching the documentary and reading the book, will go: 'How could you ever forgive your family for what they've done?' People have already said that to me.
"I said, forgiveness is 100% a possibility because I would like to get my father back. I would like to have my brother back.
"At the moment, I don't recognise them, as much as they probably don't recognise me."
William and Kate didn't get on with Meghan 'from the get-go'
Discussing Kate and William's relationship with Meghan, Harry said the couple were "Suits fans" but there was "a lot of stereotyping that was happening".
Bradby said the impression was that the Prince and Princess of Wales "almost from the get-go… don't get on.
"Fair?" he asked.
"Yeah, fair," Harry replied.
The prince said his brother "never tried to dissuade me from marrying Meghan, but he aired some concerns very early".
He claimed William said: "This is going to be really hard for you".
"I still to this day don't truly understand which part of what he was talking about," Harry added.
"Maybe he predicted what the British press's reaction was going to be."
Harry addresses alleged physical attack by William
Prince Harry: 'I saw red mist in William'

In his book, Harry claims he was physically attacked by William during a row over his marriage to Meghan.
He told ITV he and his brother "used to fight all the time" as younger siblings but there was a different "level of frustration" in the alleged incident.
"I saw this red mist in him," Harry said.
"I can pretty much guarantee today that if I wasn't doing therapy sessions like I was, and being able to process that anger and frustration, that I would've fought back – 100%."
Harry said he did not think his brother and father will read his book but added: "I really hope they do."
He claimed that "the level of planting and leaking from other members of the family" over the last six years "means that in my mind they have written countless books, certainly millions of words have been dedicated to trying to trash my wife and myself to the point of where I had to leave my country".
Brady suggested that Harry had "not so much burnt your bridges" with the Royal Family but "taken a flame-thrower to them".
"Well they've shown absolutely no willingness to reconcile up until this point", Harry replied.
"And I'm not sure how honesty is burning bridges. You know, silence only allows the abuser to abuse, right? So I don't know how staying silent is ever going to make things better."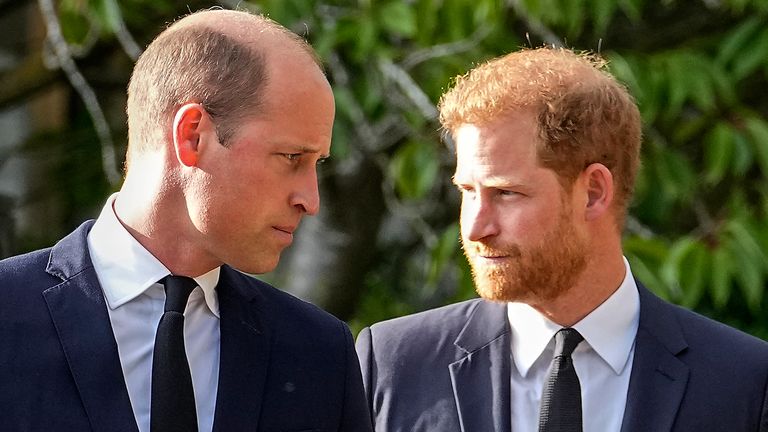 'Horrible reaction' from royals after Queen died
Addressing Queen Elizabeth's death, Harry said "The day that she died was just a really, really horrible reaction from my family members."
He claimed there were "briefings", "leaking" and "planting", adding: "I was like: 'We're here to celebrate the life of granny and to mourn her loss, can we come together as a family?' – but I don't know how we collectively, how we change that."
On his bid to take on the tabloids, Harry said his father warned him it was "probably a suicide mission to try and change" the press.
The duke claimed there was a "distorted narrative" that he and Meghan "wanted to leave to go and make money".
Addressing their exit as working royals, he said the couple decided to their their "mental health first" ans asked for "help and support".
"At that time I didn't fully understand how much – or how complicit the family were in that pain and suffering that was happening to my wife,," Harry added.
"The one group of people that could've helped or stopped this from happening were the very people that were – that were encouraging it to happen."
Harry criticises 'horrific' Jeremy Clarkson article about Meghan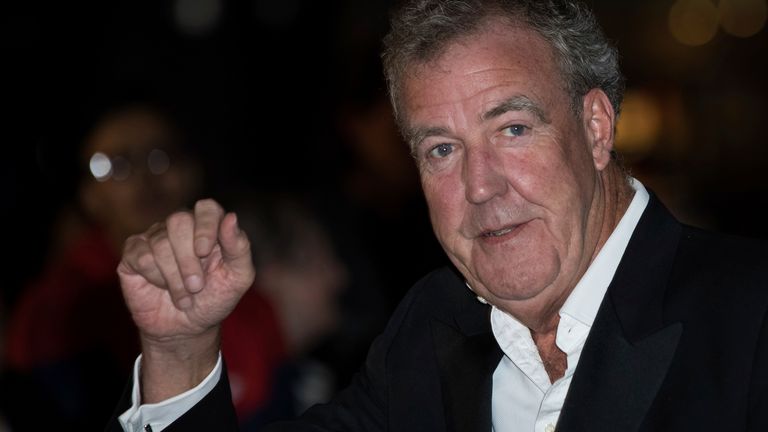 Harry branded Jeremy Clarkson's recent article about Meghan as "horrific", "hurtful" and "cruel".
Clarkson was widely criticised for his column, published in The Sun newspaper, which said he was "dreaming of the day when (Meghan) is made to parade naked through the streets of every town in Britain while crowds chant, 'Shame!' and throw lumps of excrement at her".
Harry told ITV: "What he said was horrific and is hurtful and cruel towards my wife, but it also encourages other people around the UK and around the world, men particularly, to go and think that it's acceptable to treat women that way."
Harry said "the world" was asking for "some form of comment from the monarchy" but "the silence is deafening, to put it mildly".
"Everything to do with my wife, after six years, they haven't said a single thing," he added. "But they're willing to defend themselves regularly."
Harry denies accusing Royal Family of racism in Oprah interview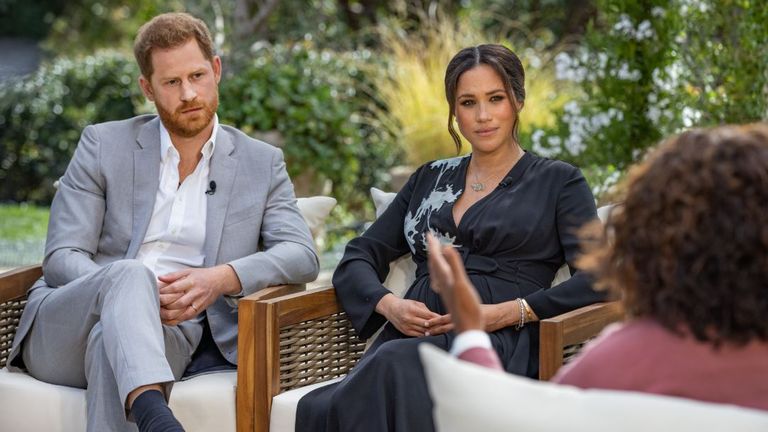 The duke claimed he did not accuse members of the Royal Family of racism when he and Meghan were interviewed by Oprah Winfrey.
Harry said his wife's claims that a family member made "troubling" comments about the skin colour of his son, Archie, related to "unconscious bias" not racism.
The duke said the recent incident involving black campaigner Ngozi Fulani and Lady Susan Hussey, the late Queen's lady in waiting, "is a very good example of the environment within the institution".
In an exchange with Bradby, the presenter said "in the Oprah interview you accused members of your family of racism".
Harry responded by saying "no I didn't", adding "the British press said that".
"Did Meghan ever mention that they're racist?," the duke said.
After Bradby said the duchess claimed troubling comments were made about Archie's skin colour, Harry said: "There was – there was concern about his skin colour."
Asked if he would describe that as racist, the duke said: "I wouldn't, not having lived within that family."
He continued: "The difference between racism and unconscious bias, the two things are different.
"But once it's been acknowledged, or pointed out to you as an individual, or as an institution, that you have unconscious bias, you therefore have an opportunity to learn and grow from that in order so that you are part of the solution rather than part of the problem.
"Otherwise unconscious bias then moves into the category of racism."
Harry's happiness 'infuriates' some people
Now living in California, Harry said he was "very happy" and "in a better place than I've ever been".
"I think that probably angers some people, infuriates others, because just by the nature of me leaving,"he added.
"I'm sure… some people always thought that Meghan would leave right, but I don't think they ever thought that I would leave as well.
"Just by leaving… it's embarrassing for some people."
Harry's book is due to be released on Tuesday but Sky News obtained a copy after it was accidentally put out for sale early in Spain.