Sir David Jason has discovered he has a 52-year-old daughter and grandchild he knew nothing about.
The Only Fools And Horses actor has spoken of his joy at discovering he is a father to actress Abi Harris and grandfather to Charlie, 10, saying he has welcomed them into his family and is making up for lost time.
Sir David, now 83, thought he had become a father for the first time at the age of 61 in 2001, when his then partner and now wife Lady Gill Hinchcliffe gave birth to their daughter, Sophie Mae.
However, unbeknownst to him, he was also father to Abi, who was born in 1970 following a brief relationship between the star and her actress mum Jennifer Hill, who appeared in the James Bond film Octopussy.
The pair have been brought together after Abi started to suspect Sir David might be her real father and wrote to him to explain.
"To say it was a surprise to find out I had a daughter from years ago is an understatement," the TV legend said in an interview with the Mirror. "However, on settling with the news, I am delighted that I am now able to get to know Abi and so we meet up when we can.
"My wife, Gill, and daughter, Sophie, have been very supportive and understanding and have embraced Abi and welcomed her and her young son into her now wider family."
It started with a letter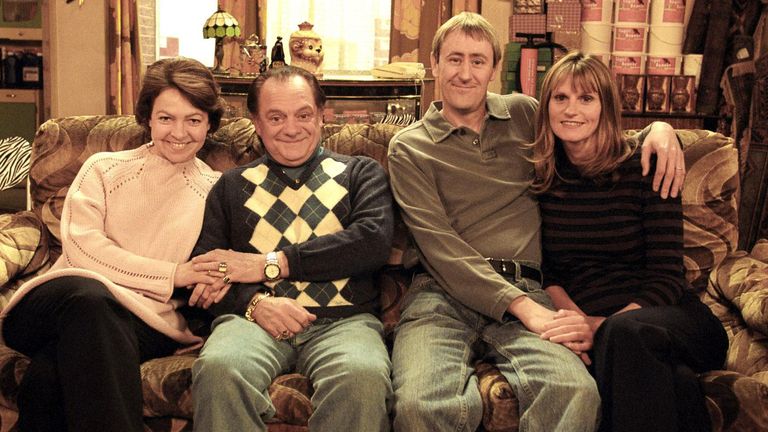 Sir David and Jennifer's relationship began at the start of 1970, when they were both starring in the Dylan Thomas play Under Milk Wood in London. Abi was born in October that year.
She and Sir David, who is also known for TV shows including The Darling Buds Of May and A Touch Of Frost, have crossed paths several times since but he had no idea they were related.
Abi's mother Jennifer was married to Shakespearean stage actor Geoffrey Davion, who also appeared in Miss Marple and The Stars Look Down, and she believed he was her biological father until his death in 1996.
'I am starting to piece together my identity'
In 2008, Sir David and Jennifer were reunited for a reprisal of Under Milk Wood, in which Abi also starred.
After conversations with her mum in the years that followed, and comments about similarities in their looks, Abi started to suspect the truth about her heritage and eventually wrote to the star, who agreed to take a paternity test.
"In ­discovering my father's identity, I am starting to piece together my own," she told the Mirror.
"Of course, I am tickled pink and incredibly proud but, frequently, completely overwhelmed with sorrow for the years we have lost.
"After a measured start, now I hope we can consciously make time to see each other more often, so that I can master the art of being the best big sister and build a ­meaningful father-daughter relationship in its truest sense."