The Crown Prince of Saudi Arabia, Mohammed Bin Salman, has denied reports that negotiations with Israel over a possible normalisation deal have been suspended and insisted that "every day we get closer".
Speaking in an interview on the US Fox News network, Prince Mohammed, known colloquially as MBS, was asked what a deal might mean for Palestinians: "For us, the Palestinian issue is very important. We need to solve that part.
"We've got to see where we go. We hope that we will reach a place, that it will ease the life of the Palestinians, and get Israel as a player in the Middle East."
Although the crown prince's comments were vague, in so much that he didn't reveal any specific red lines, they will nonetheless be interpreted as a clear message to Israel that any deal must include concessions for Palestinians.
Whether that amounts to something groundbreaking, like a move towards a Palestinian state, or something more minimal, is to be seen, although the latter remains the more realistic outcome.
The negotiations towards a possible deal between the two countries seem to be gathering pace.
Unlike the 2021 Abraham Accords, Ramallah, the de facto administrative capital of the state of Palestine, is actively engaging in the process and is reportedly asking for a raft of measures which include the re-opening of the US Consulate in east Jerusalem and the transfer of some West Bank land to Palestinian control.
A deal, depending on what is agreed, has the potential to be a genuinely historic moment for the Middle East, beyond just the Palestinian issue.
The leaders at the centre of the three-way diplomacy – MBS, Benjamin Netanyahu and Joe Biden – have given little away as their negotiating teams go about the hard work, so to hear first-hand from MBS, that progress is being made, is significant indeed.
There are many potential barriers standing in the way of a deal, but the prospect of major concessions to Palestinians will be hard if not impossible to get through the current hard-right coalition in Jerusalem.
Mr Netanyahu will likely need to rely on support from moderate opposition parties.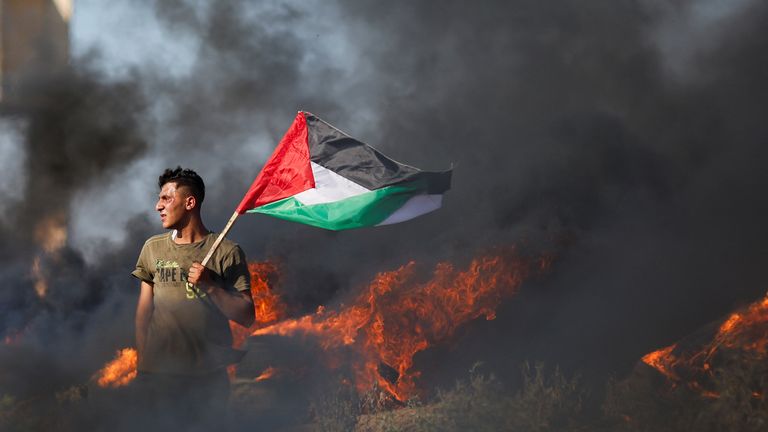 Earlier in the day, before the Fox News interview was aired, Mr Netanyahu finally met with Mr Biden after waiting 265 days, the longest of any Israeli leader since 1964.
The bilateral meeting was held in a New York hotel on the fringes of the UN General Assembly, not the White House as Mr Netanyahu would have hoped.
The discussions focused on a possible deal with Saudi Arabia and, according to the White House readout of the meeting, President Biden "emphasised the need to take immediate measures to improve the security and economic situation, maintain the viability of a two-state solution, and promote a just and lasting peace between Israelis and Palestinians" and raised again his criticism of Mr Netanyahu's planned judicial reforms that have divided Israel so starkly this year.
Mr Biden's comments reaffirm Washington's role in the negotiations, and underline they too are looking to extract concessions for all sides.
Read more:
Iran's president warns Saudi Arabia not to make peace with Israel
US and Israel will be wary after secret Beijing talks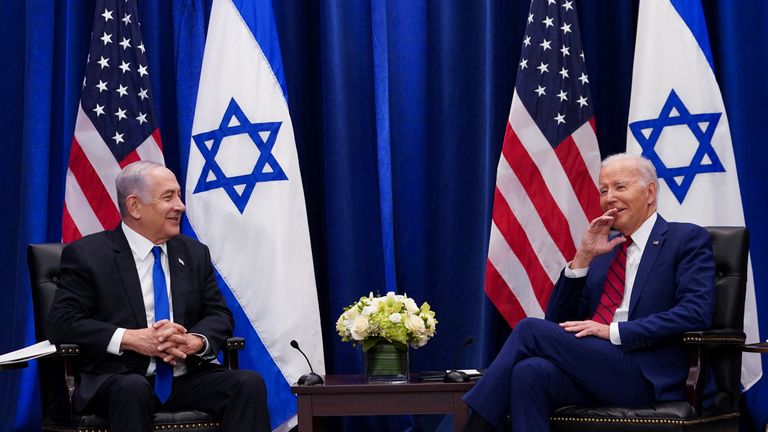 Intriguingly, Mr Netanyahu's main political opponent, the former defence minister Benny Gantz, tweeted rare praise of Mr Netanyahu last night, following the meeting, further stoking rumours that the two are perhaps working together to ensure a deal with Saudi Arabia passes the Knesset.
"I commend Prime Minister Netanyahu's meeting with President Biden. A meeting important for Israel and for the region entirely," Mr Gantz wrote.
Itamar Ben Gvir and Bezalel Smotrich, two of the Israeli coalition's most far-right ministers, have made it clear they would not support a deal with Saudi Arabia that included any concessions to Palestinians.
I put it to one of Mr Gantz's close aides that his tweet would make them spin.
"Let them," was the reply.