Home Secretary Suella Braverman will question whether the foundation of modern asylum law is still relevant in a speech in the US on Tuesday.
Ms Braverman will ask whether the United Nations Refugee Convention 1951 is "fit for our modern age".
She will be speaking to the American Enterprise Institute, a centre-right think tank in Washington DC, to set out her plans to tackle the refugee crisis.
Politics latest: Davey won't say he wants to rejoin EU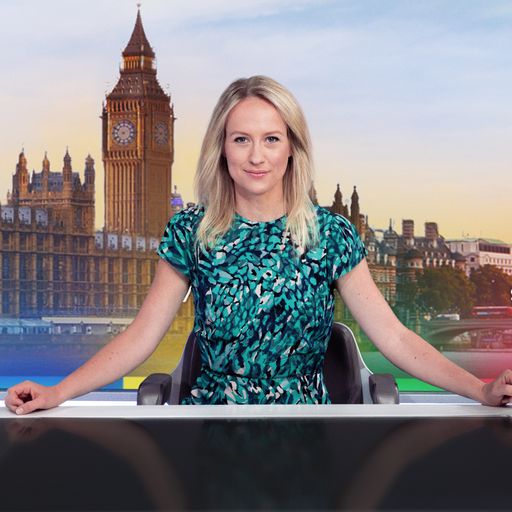 Politics Hub with Sophy Ridge
Sky News Monday to Thursday at 7pm.
Watch live on Sky channel 501, Freeview 233, Virgin 602, the Sky News website and app or YouTube.
Ms Braverman has run the Home Office since Priti Patel left roughly a year ago, although she briefly left after being found to have breached government security rules before later being reappointed.
Tens of thousands of people have crossed to the UK during this time, despite legislation passed by both Boris Johnson and Rishi Sunak and the prime minister's pledge to "stop the boats".
This is not the first time the home secretary has questioned international law – she has previously signalled her discontent with the European Convention on Human Rights and its interpretation and the subsequent impact on policies like the government's Rwanda deportation scheme.
Ms Braverman is set to say the current "global asylum framework" enables the "merging" of "seeking asylum" and "seeking better economic prospects", "seeking refuge in the first country you reach" and "shopping around for your preferred destination", and getting trafficked against your will and paying to be smuggled.
She will say: "This legal framework is rooted in the 1951 UN Refugee Convention.
'Will you electronically tag migrants?'


"The convention was created to help resettle people fleeing persecution, following the horrors of World War Two and the Holocaust, and was – initially at least – centred around Europe.
"It was an incredible achievement of its age.
"But more than 70 years on, we now live in a completely different time.
"When the Refugee Convention was signed, it conferred protection on some two million people in Europe.
"According to analysis by Nick Timothy and Karl Williams for the Centre for Policy Studies, it now confers the notional right to move to another country upon at least 780 million people.
"It is therefore incumbent upon politicians and thought leaders to ask whether the Refugee Convention, and the way it has come to be interpreted through our courts, is fit for our modern age? Or whether it is in need of reform?"
Read more:
Asylum backlog in UK hits record high
Asylum bill doubles to nearly £4bn
Ms Braverman will claim that case law has led to the "persecution" requirement to seek asylum being watered down to "discrimination".
She will go on: "The status quo, where people are able to travel through multiple safe countries, and even reside in safe countries for years, while they pick their preferred destination to claim asylum, is absurd and unsustainable.
"Nobody entering the UK by boat from France is fleeing imminent peril. None of them have 'good cause' for illegal entry.
"The vast majority have passed through multiple safe countries, and in some instances have resided in safe countries for several years. In this sense, there is an argument that they should cease to be treated as refugees when considering the legitimacy of their onward movement."
This is not the first time senior Conservative ministers have signalled their displeasure with international rules around migration.
Dominic Raab, who was deputy prime minister until he had to resign following bullying allegations, repeatedly voiced his displeasure with the European Convention on Human Rights.
Yvette Cooper, the shadow home secretary, said Ms Braverman "has given up on fixing the Tories' asylum chaos at home so now she's resorting to grandstanding abroad and looking for anyone else to blame".
She added that "dangerous boat crossings are up, the backlog of undecided cases is at a record high, returns are down by 70% and the taxpayer is now spending an astronomical £8m a day on hotels – all because the Conservatives have time and again offered cheap gimmicks instead of getting a proper grip".
Click to subscribe to the Sky News Daily wherever you get your podcasts
"And instead of enhancing international cooperation to go after the criminal gangs and build long-term solutions, this government has made it harder to get other countries to work with us by undermining international agreements that they still want other countries to abide by and offering no solutions," she said.
"Most people in Britain want to see strong border security and a properly managed asylum and resettlement system so that the UK does its bit to help vulnerable refugees who have fled persecution and conflict – like the Afghan interpreters who helped our armed forces. Under the Tories we have the worst of all worlds – a broken asylum system that is neither firm nor fair."