Thousands of Palestinians are streaming onto Gaza's only highway as they try to flee the combat zone in the north, after Israel announced a window for safe passage.
It comes as Israeli forces struck near several hospitals in Gaza City as the military pushes further into dense urban neighbourhoods.
Parents carried children in their arms while others brought what possessions they could in animal-drawn carts in a line stretching as far as the eye could see.
Follow live: IDF 'kills 30 Hamas fighters'
The accelerating exodus to the south came as Israel agreed to start implementing a four-hour humanitarian pause each day and to open a second route for people to flee the north, the White House said.
Those fleeing to the south face the prospect of ongoing airstrikes there, and dire humanitarian conditions.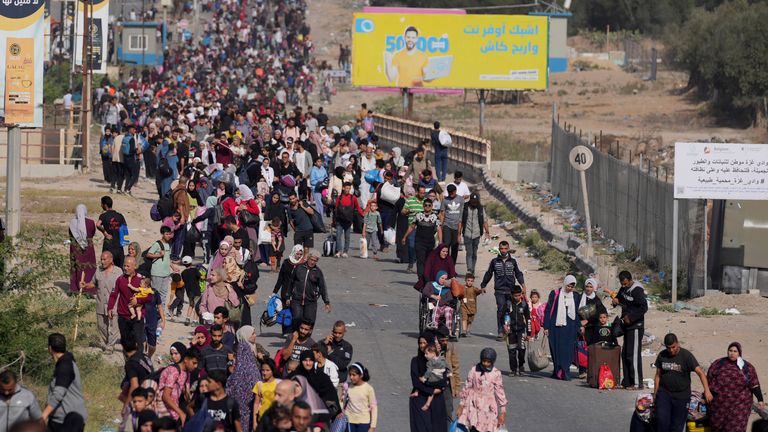 More and more people have been living in and around Shifa Hospital – the largest hospital in Gaza – in the hope that it will be safer than their homes or United Nations shelters in the north, several of which have been hit repeatedly.
Early on Friday, Israel struck the hospital's courtyard and obstetrics department, according to the head of the Hamas-run media office in Gaza, Salama Maarouf.
The Health Ministry in Gaza later said one person had been killed at Shifa Hospital and several others wounded.
Israel has accused Hamas fighters of hiding in hospitals and using the Shifa Hospital complex as its main command centre, which the militant group and hospital staff deny, saying Israel is creating a pretext to strike it.
Hamas fighter: 'This is our land'

More than 10,800 Palestinians have been killed since the hostilities began, according to the Gaza health ministry.
More than 1,400 people have been killed in Israel, mainly in the initial Hamas attack, and more than 30 Israeli soldiers have been killed in Gaza since the ground offensive began.
Israel's military said it killed 19 Hamas militants overnight – including a company commander and a platoon commander who were involved in the 7 October attack – and also destroyed a shipping container that held some 20 rocket launchers.
Read more:
'I don't want to go from one war to another': Ukrainians await Gaza evacuation
Analysis: Lebanon on verge of war
Biden: 'No possibility' of ceasefire in Gaza

Meanwhile, the head of the UN Palestinian refugee agency (UNRWA) said on Friday that more than 100 UN workers had been killed since the start of the Israel-Hamas conflict.
"UNRWA is mourning, Palestinians mourning, Israelis mourning," Philippe Lazzarini said, reiterating a call for a humanitarian ceasefire.
US Secretary of State Antony Blinken, speaking on a visit to India, said that "far too many" Palestinians have died and suffered as Israel wages war on Hamas.
He urged Israel to minimise harm to civilians and maximise humanitarian assistance that reaches them.