Hundreds of thousands of protesters are set to head to central London today to call for a ceasefire in Israel's war against Palestinian militant group Hamas.
The march has drawn criticism from the prime minister and home secretary because it coincides with Armistice Day, when people across the UK remember the moment the guns of the First World War fell silent.
At noon demonstrators will gather in Hyde Park, around a mile from the Cenotaph, before marching to the US embassy in Vauxhall on the south bank of the Thames, with the demonstration set to end at 4pm.
Israel-Gaza latest: 'Intense violence' reported at Gaza hospital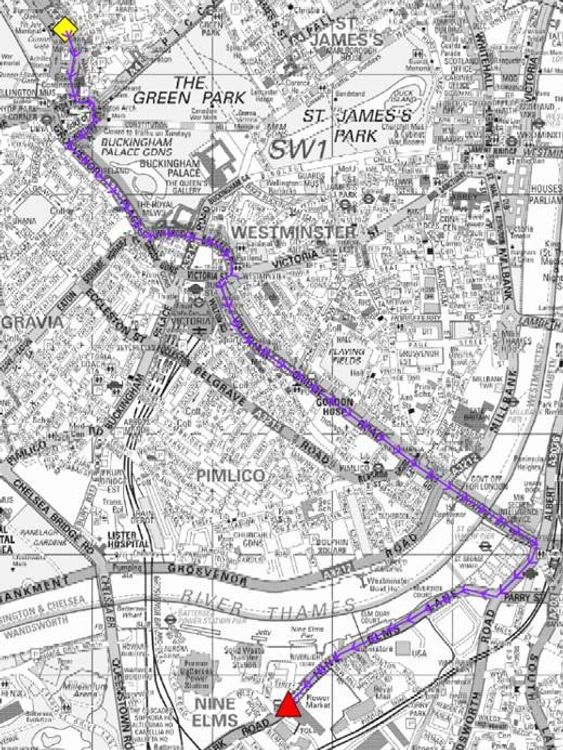 Organisers have predicted half a million people will gather in the capital in the "biggest demonstration" over the Israel-Hamas conflict, with the police bracing for huge numbers.
Previous rallies have proven controversial because some protesters have chanted offensive slurs, clashed with police and carried images appearing to support extremist groups.
Prime Minister Rishi Sunak has labelled the protest "provocative and disrespectful," while Home Secretary Suella Braverman provoked widespread condemnation for an article she wrote in The Times in which she described those taking part as "hate marchers" and accused the police of "playing favourites" with left-wing groups over right-wing and national activists.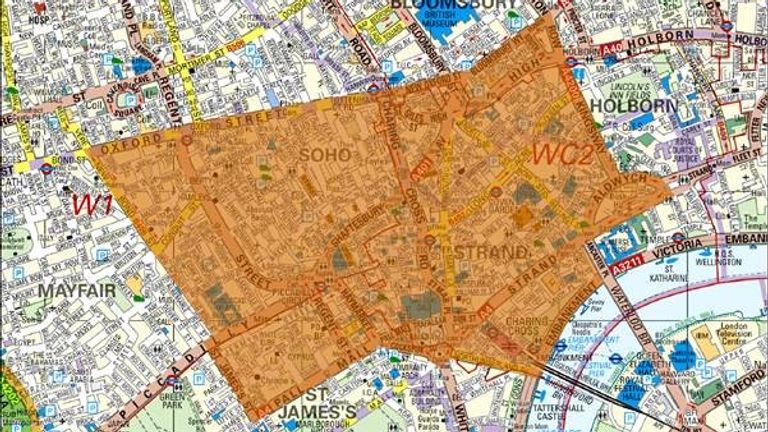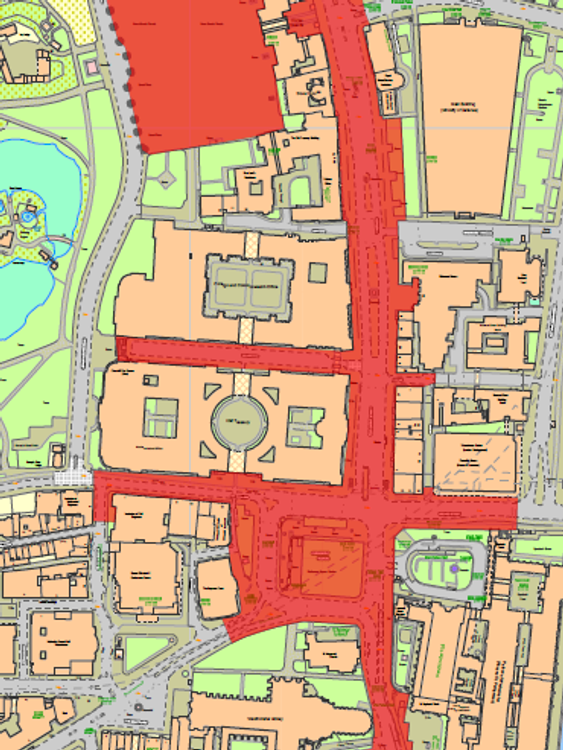 However, Met Commissioner Sir Mark Rowley resisted banning the march and said after looking at intelligence the legal threshold for a ban had not been met – with the prime minister accepting the protest will go ahead.
The row caused by Ms Braverman's article – which linked the pro-Palestinian demonstrations to marches seen in Northern Ireland – has seen her come under considerable criticism from within her own party, with Chancellor Jeremy Hunt distancing himself from the home secretary's criticism of the Met, though Downing Street said it has full confidence in her.
Subsequently, Mr Sunak has issued a "plea for unity" ahead of the march urging those taking part to do so "respectfully and peacefully".
He said in a statement: "This act of remembrance is fundamental to who we are as a country and I want to reassure those wishing to pay their respects, attend services and travel that they can and should do so.
"It is because of those who fought for this country and for the freedom we cherish that those who wish to protest can do so, but they must do so respectfully and peacefully.
"Remembrance weekend is sacred for us all and should be a moment of unity, of our shared British values and of solemn reflection."
PM: Met Police chief 'accountable' over protest

It is feared breakaway groups from the main pro-Palestine march could look for trouble by disrupting Armistice events, while far-right counter-demonstrators could further stretch police resources amid fears they could clash with pro-Palestinian protesters.
English Defence League founder Tommy Robinson has said men are "mobilising" to be in the capital, while the Democratic Football Lads Alliance has posted on Facebook to say its demonstrators will act as a "buffer" for those who wish to head to the Cenotaph to pay their respects.
Read more:
Israel to pause fighting in Gaza for four hours a day, US says
Teens charged with criminal damage for spraying 'Free Palestine' on town cenotaph
Poll reveals what Britons think of marches on Armistice Day
Sir Mark Rowley has interpreted the law correctly
By Graham Wettone, policing analyst
Sir Mark Rowley was very careful with his words about why the pro-Palestinian protest this Saturday has not been banned.
He spoke about the legal issues around banning a gathering and then explained the possible options for a ban.
He has interpreted the law correctly and some in government appear to have misunderstood or misinterpreted it, and forgotten the police have operational independence.
Section 12 of the Public Order Act 1986 allows for marches and processions to have conditions placed on them if the senior officer "reasonably believes" it may result in serious disorder, damage or disruption.
The Met can impose conditions relating to the duration and route of a march, as placing a number restriction is totally unworkable. That is what they will be doing with the organisers this Saturday, as the organising groups have refused to cancel the protest.
Section 13 of the Public Order Act relates to banning a march. This is only applicable if the commissioner reasonably believes that the powers under Section 12 – any conditions he imposes on the procession – will not be sufficient to prevent serious disorder.
Sir Mark clearly stated that, at the moment, the intelligence does not support the "reasonable belief" that serious disorder is likely, hence he cannot legally apply for a ban under Section 13. I would agree that is probably the case.
Sir Mark then explained the law around gatherings or assemblies. Police can impose conditions on these under Section 14 of Public Order Act, which is similar to Section 12 in that there needs to be a "reasonable belief" of "serious disorder".
However a key difference is that Section 13 only applies to processions or marches under Section 12 – and not gatherings under Section 14. There are no legal powers to ban people gathering.
The Met tried to prevent unlawful assemblies using Section 14 across London a few years ago with Just Stop Oil, but the High Court ruled it was unlawful and that gatherings cannot be legally banned.
Nearly 2,000 officers on duty
More than 1,000 police officers have been drafted in from outside forces to monitor the march, with the Met saying 1,850 officers will be on duty on Saturday and 1,375 on Sunday.
Click to subscribe to the Sky News Daily wherever you get your podcasts
Officers have set up exclusion zones covering the Cenotaph, Whitehall, Horse Guards Parade, the Westminster Abbey Field of Remembrance and other relevant areas.
The Met says "anyone believed to be part of, or associated with, the pro-Palestinian demonstration trying to assemble in this area can be arrested".
The force said: "We know the cumulative impact continued protest, increasing tensions, and rising hate crimes are having across London and the fear and anxiety our Jewish communities in particular are feeling.
The stringent measures are no surprise
The police measures come as no surprise – lots of cops, exclusion zones and a strict time limit.
It's all aimed at preventing breakaway groups from moving off and causing trouble away from the main protest.
The march organisers have already agreed not to clash with Armistice Day ceremonies around iconic sites such as the Cenotaph and other war memorials.
But police believe the biggest threat of disorder comes from those planning counter demonstrations, especially far-right groups who have issued rallying calls for their supporters to meet in central London.
Over the past four weeks of protests the Met, under early widespread criticism, increased its arrest rate and says the new restrictions will enable officers to move faster and more robustly against troublemakers.
The commissioner Sir Mark Rowley believes he can cope and, anyway, does not have intelligence of a threat of serious public disorder that would enable him to ask for a complete ban on the march.
His job may not be on the line, but the reputation of him and his force, after a troubled two years, certainly is.
"They have a right to feel safe in their city, knowing know they can travel across London without feeling afraid of intimidation or harassment.
"During protests since the attacks on 7 October we've seen small groups break away from planned events.
"Their behaviour has been escalating and becoming more violent and distressing to the public. Over the last four major events we have made more than 100 arrests for offences including supporting proscribed organisations and serious hate crime."