Fighting has reportedly broken out as people attempt to reach the Cenotaph in London.
A large crowd of people bearing St George's flags was seen walking along Embankment and shouting "England 'til I die".
A line of police attempted to stop them from reaching Whitehall but the group pushed through, with some shouting "let's have them" as officers hit out with batons.
The group appears to have reached Whitehall, where the Cenotaph is.
Many more were pushing through, shouting "forward".
The clashes happened just moments before the Armistice Day two-minute silence, when people across the UK commemorate the end of the First World War.
Stephen Yaxley-Lennon, the former co-leader of the English Defence League, had called for his supporters to mass in the capital.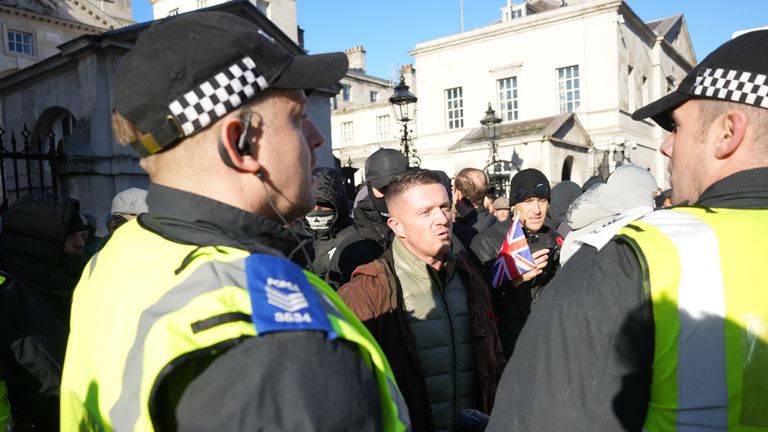 It comes as hundreds of thousands of protesters are heading to central London today to call for a ceasefire in Israel's war against Palestinian militant group Hamas.
The march has drawn criticism from the prime minister and home secretary because it coincides with Armistice Day, when people across the UK remember the moment the guns of the First World War fell silent.
This breaking news story is being updated and more details will be published shortly.
Please refresh the page for the fullest version.
You can receive Breaking News alerts on a smartphone or tablet via the Sky News App. You can also follow @SkyNews on X or subscribe to our YouTube channel to keep up with the latest news.